What we do
Epic Solutions is a leading provider of electronic health care solutions.
We have developed a highly scalable and award-winning Care Management System (epicCare) that seamlessly integrates into a care homes daily activities. Our customers use our system to achieve compliance, improve the quality of care, reduce fiscal and operational risk while enhancing their organisational management capabilities.
The epicCare product is a fully web-based system that delivers significant cost savings in a simple to use format that is quickly embraced by staff and easily deployed across an entire organisation.
- Read More
Our Customers
Who We Serve
epicCare is predominantly used in Long Term Care, Care of the Elderly, Sheltered Housing, Mental Health and Learning Disabilities.
epicCare is currently being used to manage the care needs of over 20,000 individuals in various healthcare settings. It has been embraced by over 16,000 clinicians, support staff and management such as Owners, Managers, Regional Managers, Nurse Managers, Nurses, Care Assistants, Administrative Staff, Finance Staff and H.R. Staff as their preferred healthcare technology of choice.
We are very proud that epicCare has been embraced by so many healthcare professionals and we firmly believe that this success is largely attributable to our very proactive and innovative clients. Therefore we would like to take this opportunity to thank all our clients for their valuable contribution and for helping us to make epicCare successful.
Testimonials
"We use epicCare extensively throughout our Nursing home. Our Nursing staff actively use all aspects of the System for daily progress Notes, Assessments, Care Plans, Wound management, Medications Management and Electronic eMAR. It is also widely used by the Multi-disciplinary team who visit the Nursing Home as they all record their notes using Epic, Physio, OT, Dietician, Speech and Language Therapist, Chiropodist and GP. Our Care Assistants find the touchCare system excellent for recording all aspects of our Residents Daily Care and can quickly access resident details"
– Elaine Moloney, Director of Nursing,
Sunhill Nursing Home, Termonfeckin, Co. Louth
"We initially decided to implement epicCare as an alternative to our previous paper-based system. Since then, our relationship has gone from strength to strength and we are delighted to say that we have been an epicCare customer for over five years. The team really take the time to listen to our feedback which is often translated into real world practical solutions. Our epicCare software enables us to deliver operational and clinical efficiencies but beyond all else, allows us to deliver better care to our residents."
– Mr Paul Kingston, Chief Executive Office, Carechoice Group.
"epicCare has become renowned for encouraging a positive culture of clinical accountability and professional responsibility. Over two years ago we decided to implement epicCare as a solution to the time consuming and costly process of operating our previous manual systems. We now use it extensively across our 100 bed facility and alongside our own staff we have a number of MultiDisciplinary Teams and Doctors using epicCare as well. We can thoroughly recommend it for the culture, efficiency, accuracy and significant savings it delivers."
– Stuart Johnstone, BNur PGDip,
Clifton Nursing Home Manager (Part of Runwood Homes UK).
"The most obvious saving to us was from the move away from paper. Calculating the savings, we would make just from paper, ink and document storage alone, justified and funded the investment we made in epicCare."
– Nicki Egan, Office Manager, Bethany House Nursing Home
"Over eight years ago we decided to implement epicFinance as a solution to the time consuming and costly process of operating our previous manual and off the shelf finance systems. We now use it extensively across our 26 homes and can thoroughly recommend it for the efficiency, accuracy and significant savings it delivers."
– Mary O'Regan, Administration Manager, Mowlam Healthcare Service
"Using epicCare allows us to instantly monitor and manage key areas of our Nursing Home operations. The accuracy of the information saves us time, allows us to prioritise actions, manage allocation of resources and generally spend more time with our Residents ".
– Aoife Bailey, Director of Nursing, Drogheda Services for Older People (HSE)
"epicCare is a significant asset in the delivery of care. It provides us with instant access to vital Resident information, supporting efficiency and safety at the point of care. epicCare enables us to instantly check which care plans require interventions or are due to be reviewed. All assessments are completed in a timely manner and all routine and priority daily records are easily accessed and shared for shift handovers. I can't imagine trying to do all this without epicCare"
– Elaine Murray, Person in Charge (Alzheimer Care), Highfield Healthcare
"Manually correlating and consolidating data is an arduous task, it consumes significant time and resources, not to mention the substantial disruption to staff routine. epicCare's suite of reports has everything we need, and if something new comes up, the guys in the office are great at responding to our requirements. The reports are our first port of call as part of our rigorous performance management and care monitoring program. They are an exceptional asset contributing to a more efficient inspection process. I'm not sure how we managed prior to the excellent reporting capabilities of the epicCare system."
– Seamus O'Shea, General Manager, Talbot Group Nursing Homes
"Looking up resident records on epicCare is fast and easy. For instance, being able to quickly check reminder dates, medical card details, admissions and next of kin contact information, saves us time and enables us to be more efficient in our dealing with the Residents network of healthcare professionals and with the Residents next of kin and family. All the data we need is never more than a few clicks away"
– Sabrina Fitzgibbon, Administrator, Carechoice Malahide
Download the epicCare Value Proposition
In this free download you will learn about the incredible benefits of implementing epicCare into your operation. We will also show you how epicCare has consistently proven to be cost neutral and in most cases offers a significant return on investment.
We will discuss how you can save in areas such as:
Management
Care documentation
Reporting
Administration
Accounts receivables
Paper, Stationary and Storage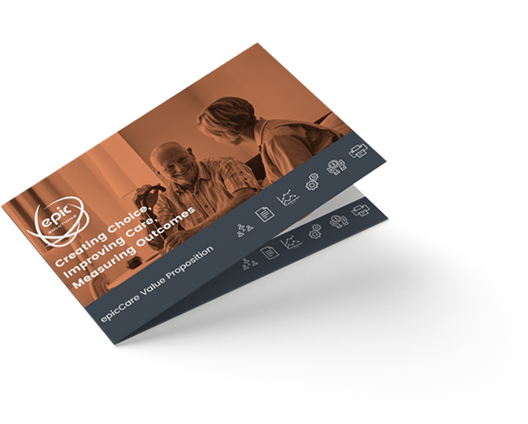 Contact Us
Contact details
Carrigtwohill
Business Centre,
Main Street,
Carrigtwohill,
Co. Cork,
Ireland